Just like the name implies, Maverick is different from the rest of the pack. It is an American-made fat bike with modern trail geometry and massive tires. It is the missing tool to keep your free riding spirit alive when the snow hits the ground. The Maverick's roomy cockpit is made for short stems and wide bars for better control over the big front tire. The slack head tube angle, low bottom bracket, and optimized chain stay lengths make for a balanced ride to keep you feeling confident on the steep downhill sections and allow you to climb like a mountain goat on those daunting hills. Maverick is designed for having fun whenever and wherever you ride.
Ride anywhere
Easy to pedal
Lightweight
Low maintenance
Freedom of choice
Customize the color and components of your bike to fit your riding style and budget.

Key Features
6061-T6 American-made aluminum tubing
Chain stay and seat stay yokes
Sliding dropouts
Thru axles
Threaded bottom bracket
External cable routing
Dropper post compatible
Tubeless wheels/tires
Water bottle mounts
Rear rack mounts
Low standover height
26×4.8 (stock)
27.5×3.8
26×5.05 (Not compatible with Wren forks)
27.5×4.5 (sliders in middle position)
29+
We've taken a different approach to frame design by using oversized American-made 6061 tubing up front and rectangular tubing in the rear, matted to CNC'd chain stay and seat stay yokes. This burly design reduces frame flex, improves torsional compliance, and enhances power transfer from each pedal stroke, while giving our bikes the unique aggressive look that we are becoming known for. The incorporation of CNC'd yokes also allows our frames to have greater tire and chain ring clearance, while creating stronger weld joints due to a more precise manufacturing process.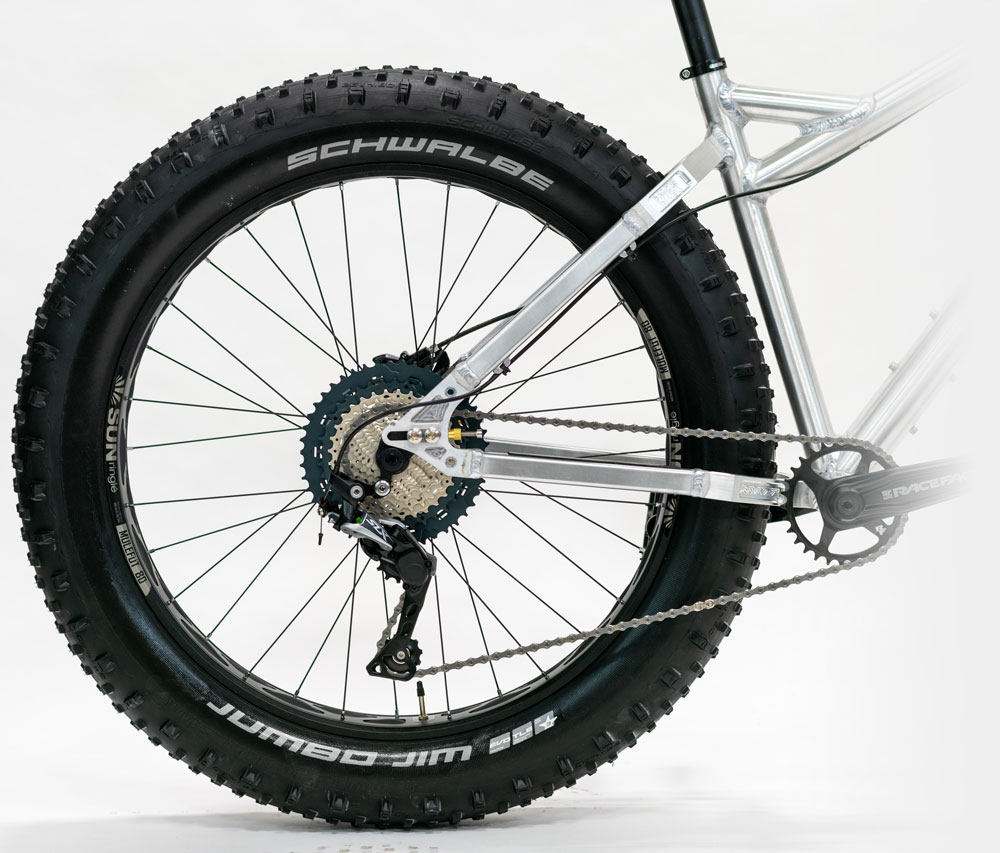 Frameset
Frame
Premium 6061-T6 Aluminum (Made in USA)
Fork
Your choice
Dropouts
Sliders, 20mm adjustable, 197x12mm
Wheelset
Your choice
Tires
Your choice
Drivetrain
Your choice
Crank
RaceFace Ride: 170mm (S-M), 175mm (L-XL)
Chainring
RaceFace DM N/W Steel 30t
Bottom Bracket
RaceFace Team XC 100mm Threaded
Saddle
WTB Speed Comp
Seatpost
31.6mm (Your choice)
Handlebar
PNW Range Handlebar Gen 3, 31.8mm, Gray
Grips
PNW Loam (Black)
Stem
Protaper 40mm length 31.8mm clamp
Headset
FSA Orbit ITA - tapered
Brakeset
Your choice
Rotors
180mm front / 160mm rear | 160mm front & rear with rigid fork
Pedals
Your choice
Weight
Medium w/Carbon Fork - 32 lbs
Medium w/Suspension - 35 lbs
Weight limit
350lbs
Frame Material: American-made 6061-T6 aluminum
---
Bottom Bracket: 100mm Threaded
---
Chainline: 76mm
---
Q-factor: 230mm (w/RF Ride Crankset) / Minimum Q-factor 228mm
---
Max Chainring: 32t
---
Rear Spacing: 12 x 197mm (Stock) / 9 x 190mm (with QR sliders)
---
Dropouts: Left Side, Sliding, Post Mount, 160 Rotor, 12 mm | Right Side, Sliding, Hanger, M12 x 1.5 | T45 bolts (40nm)
---
Rear Axle: 197 x M12 x 1.5, Rear
---
Headtube: 50.8mm OD / 44mm ID
---
Seat Tube: 34.9mm OD / 31.6mm ID
---
Seat Post Clamp Diameter: 34.9mm
---
Recommended Tire Size: 26 x 4.8″ / 27.5 x 3.8″ / 29 x 3.0″
---
Max Tire Size: 26 x 5.05″ / 27.5 x 4.5″
---
Water Bottle Mounts: 2 locations (above and below down tube)
---
Rack Mounts: Located on rear dropouts (Special seat clamp required for seat tube mount)
---
Weight: 6 lbs (with sliders)
Geometry with Manitou Mastodon Fork / Wren Inverted
| | Bike Size | Small | Medium | Large | X-Large |
| --- | --- | --- | --- | --- | --- |
| | Recommended Rider Height | 5'3"-5'7" | 5'8"-5'11" | 6'0"-6'3" | 6'4"-6'7" |
| A | Effective Top Tube Length | 617mm | 655mm | 687mm | 720mm |
| B | Reach | 430mm | 465mm | 495mm | 525mm |
| C | Stack | 640mm | 649mm | 658mm | 668mm |
| D | Seat Tube Length | 400mm | 440mm | 490mm | 540mm |
| E | Seat Tube Angle | 74° | 74° | 74° | 74° |
| F | Head Tube Length | 115mm | 125mm | 135mm | 145mm |
| G | Head Tube Angle | 67° | 67° | 67° | 67° |
| H | Chainstay Length | 445-465mm | 445-465mm | 445-465mm | 445-465mm |
| J | Stand Over Height | 28" | 29" | 30" | 32" |
| K | Bottom Bracket Drop | 55mm | 55mm | 55mm | 55mm |
| L | Bottom Bracket Height | 325mm | 325mm | 325mm | 325mm |
| M | Wheelbase | 1174-1194mm/1169-1189mm | 1213-1233mm/1208-1228mm | 1247-1267mm/1232-1252mm | 1280-1300mm/1275-1295mm |
| N | Front Center | 735mm/729mm | 768mm/762mm | 808mm/802mm | 842mm/836mm |
| O | Fork Length | 530mm | 530mm | 530mm | 530mm |
| P | Fork Offset | 51mm/45mm | 51mm/45mm | 51mm/45mm | 51mm/45mm |
-Geometry without suspension sag
-Standover is measured 70mm from the front of bottom bracket center
Geometry with Wren Carbon Rigid Fork (Suspension corrected: 505 axle-to-crown length is equivalent to suspension set at 20% sag)
| | Bike Size | Small | Medium | Large | X-Large |
| --- | --- | --- | --- | --- | --- |
| | Recommended Rider Height | 5'3"-5'7" | 5'8"-5'11" | 6'0"-6'3" | 6'4"-6'8" |
| A | Effective Top Tube Length | 614mm | 651mm | 684mm | 717mm |
| B | Reach | 442mm | 476mm | 506mm | 536mm |
| C | Stack | 632mm | 642mm | 650mm | 659mm |
| D | Seat Tube Length | 400mm | 440mm | 490mm | 540mm |
| E | Seat Tube Angle | 75° | 75° | 75° | 75° |
| F | Head Tube Length | 115mm | 125mm | 135mm | 145mm |
| G | Head Tube Angle | 68° | 68° | 68° | 68° |
| H | Chainstay Length | 445-465mm | 445-465mm | 445-465mm | 445-465mm |
| J | Stand Over Height | 27.5" | 28.5" | 29.5" | 31.5" |
| K | Bottom Bracket Drop | 63mm | 63mm | 63mm | 63mm |
| L | Bottom Bracket Height | 316mm | 316mm | 316mm | 316mm |
| M | Wheelbase | 1156-1176mm | 1192-1212mm | 1229-1249mm | 1263-1283mm |
| N | Front Center | 719mm | 757mm | 791mm | 825mm |
| O | Fork Length | 505mm | 505mm | 505mm | 505mm |
| P | Fork Offset | 42mm | 42mm | 42mm | 42mm |
-Standover is measured 70mm from the front of bottom bracket center
Factory Raw
A current trend in the hand crafted bike industry is choosing a bike that is delivered with a factory raw finish. The factory raw look best reveals the manufacturing quality and technical details of the frame. Factory raw frames are not coated after production, but move directly to assembly. Over time, an oxide layer/patina forms on the frame, causing the shine of the raw aluminium to fade slightly. With the help of a polishing compound or cleaner, the old shine can be restored in a few easy steps.
Powder Coat
If you decide to customize the color of your bike, you can choose from a selection of several different powder coat colors. If there isn't a color shown on our bike build page, please contact us for custom options. Powder coating is an advanced finishing process that is a extremely durable and more resistant to chipping, scratching, fading, and wearing when exposed to snow, rain, and the hot sun.
Great Ride!
I've had my Maverick for about 6 weeks now and have been very satisfied with it's performance. My primary motivation for riding is fitness and fun, and my Maverick checks those boxes admirably. The gearing has been appropriate for my trails and it rides very comfortably. Since I live a couple hours away from Wyatt's shop I was able to see the build process and talk with him about the specs that make sense for my riding.
Very pleased with the bike and proud to support an American Made manufacturer! Thanks Wyatt and Team!
Great bike
I've had my maverick for about a month now and been out on a few rides and I'm loving it from the fit and feel of the geometry, shifting, brakes, and have had a lot of people complement on the colours I picked.
I'm 6'5" and this xl frame fits me perfectly and is such a pleasure to ride, I'm looking forward to some longer rides this summer.
Great bike thanks Wyatt and team.
First Fat Tire Bike
It was impossible to find a fat tire bike in southern California in late 2021 so I searched for dealers that had such bikes and learned about Wyatt Bikes in Wisconsin (my home state). I spoke with the owner (Wyatt) and he seemed very knowledgeable and enthusiastic about their bikes so I placed an order. My bike arrived 16 weeks later (longer than projected 10-12 weeks). The shipment was packaged extremely well and assembly/adjustments were quite straightforward and took less than an hour. The Owners Manual is very useful and complete. The Wisconsin made frame was very nicely manufactured and the raw finish that I elected is beautiful. Considering the frame is XL with its humongous tires, the bike is surprisingly light. The Maverick is a pleasure to ride with easy shifting and great brakes. Plus, the sound it makes on the pavement is daunting to others on the road!! Very happy with my purchase
Black-On-Black "Johnny Cash Special" - Large
New Bike Day! My Wyatt Maverick arrived today and I could not be more pleased. The black-on-black color scheme looks as slick and rebellious as a young Johnny Cash. All that's missing are the dark shades.
With the Terrene Cake Eater 27.5 X 4.5" tires, the ride is smooth, efficient, and solid. The SRAM NX 1 X 12 drivetrain will give me the extra gears I need for long days in the saddle, once it's set up for bikepacking, and the frame geometry seems relaxed, yet aggressive.
Wyatt's customer service has been exceptional through the building process, accommodating some last minute changes without issue, and keeping me updated on the manufacturing process throughout. And I'm absolutely elated that the frame was handmade in the USA, with aluminum made in the USA, and American labor.
Looking forward to putting this bike to the test on some upcoming bikepacking adventures.
Great bike and great people.
First Fat Bike- Very Satisfied
This is my first Fat Bike and I am not disappointed. After researching locally and hearing that I would not be able to order a Fat Bike for delivery prior to April 2022, I found the Wyatt Maverick. I ordered it as a combination Birthday, Christmas and Retirement gift for myself on August 8, expecting 10 to 12 weeks for delivery. As I was anticipating the delivery I decided to order a rack from Wyatt as well. The bike took longer than anticipated and at the last minute we needed to make some changes to the components if I didn't want to wait even longer. Wyatt called me and we settled on the components that were in stock. Even with the delay the bike arrived before the snow in Colorado. They assembled the bike rack and mounted to the bicycle saving me time. I have had the opportunity to ride the bike a few times in various trail and weather conditions the i have not been disappointed. I am glad that I was able to find a quality bike manufactured in the USA and I look forward to the rides ahead in my future.
Wyatt Maverick Medium
I bought this bike wanting a USA made fat bike. There seemed to be no risk with the 30 day test ride policy. From the pictures and website description I hoped for a comfortable riding position. I can't even explain with words how thrilled I am with this bike. It is more than I hoped for. The best I can describe it is I feel as if Wyatt consulted me directly to make the perfect bike. The frame, welds, machining, and components are outstanding. The color I wanted, and as I rode a single track after a bad wind storm I had a bad encounter with a branch that got lodged up into the rear wheel and frame. I am amazed there are no scratches on the powder coat. Paint would have never held up like that. The riding position is incredible. Now being a Maverick owner and the wondering is in the past, I would wait years if I had to for this bike. My advice, don't hesitate. Can't say enough about my positive experience. Happy trails.
It's Awesome!
I love the bike, I can't wait to outfit it and enjoy all the weather and conditions that people often don't enjoy with their Bikes.
Wyatt Maverick
I have been riding a custom built Wyatt Maverick from RideFATbikes.ca, through all 4 seasons of the year, and been extremely happy with the bike's performance.
The Wyatt Maverick has a modern MTB-style progressive geometry (longer top tube, steep seat tube, slack head tube), that is ideally suited for up to 120mm of front suspension travel, and accepts all Fat bike wheelset and tire sizes. My bike has a Mastodon PRO 120 installed, Atomik/Berd/DT Swiss wheelset (26"x82mm), SRAM GX Eagle 12spd groupset, 45N tires (26x4.6"), Hayes Dominion A4 brakes, and a 150mm travel dropper post.
The alloy frame is hand-crafted in Wisconsin, and I'm proud to be riding a "Made in USA" product. The attention to detail on the frame is excellent, and so is the customer service of Wyatt Bicycles.
The adjustable chainstays may add a bit of extra weight to the frame, (for those that put a priority on component weights), but the ability to change your chainstay length and wheelbase from 445-465mm, allows one to fine tune the the riding characteristics for all 4-season usage. Shorter chainstay length is ideal for singletrack and technical riding, especially with a front suspension fork installed. A longer chainstay length is ideal for XC bikepacking or winter riding where there may be extended climbs, especially in snow or on ice - where a more stable platform is essential for balance and control. The adjustable chainstay feature of the Wyatt Maverick therefore allows two different biking platforms within a single frame.
The Maverick is very comfortable to ride for hours, and this Fat bike climbs so well (because of its thoughtful geometry), that you forget about the added weight of the frame being alloy vs. carbon.
The Wyatt Maverick is a bargain for its pricepoint, and knowing you are 100% supporting a Made in USA product is an added bonus!
Thank You Wyatt, for a great Fat bike!