Description
Just like the name implies, Maverick is different from the rest of the pack. It is an American-made fat bike with modern trail geometry and massive tires. It is the missing tool to keep your free riding spirit alive when the snow hits the ground. The Maverick's roomy cockpit is made for short stems and wide bars for better control over the big front tire. The slack head tube angle, low bottom bracket, and optimized chain stay lengths make for a balanced ride to keep you feeling confident on the steep downhill sections and allow you to climb like a mountain goat on those daunting hills. Maverick is designed for having fun whenever and wherever you ride.
Ride anywhere
Easy to pedal
Lightweight
Low maintenance
Freedom of choice
Customize the color and components of your bike to fit your riding style and budget.
Key Features
American-made 6061-T6 aluminum frame
Chain stay and seat stay yokes
Sliding dropouts
Thru axles
Threaded bottom bracket
External cable routing
Dropper post compatible
Tubeless wheels/tires
Water bottle mounts
Rear rack mounts
Low standover height
26×4.8 (stock)
27.5×3.8
26×5.05 (Not compatible with Wren forks)
27.5×4.5 (sliders in middle position)
29+
We've taken a different approach to frame design by using oversized American-made 6061 tubing up front and rectangular tubing in the rear, matted to CNC'd chain stay and seat stay yokes. This burly design reduces frame flex, improves torsional compliance, and enhances power transfer from each pedal stroke, while giving our bikes the unique aggressive look that we are becoming known for. The incorporation of CNC'd yokes also allows our frames to have greater tire and chain ring clearance, while creating stronger weld joints due to a more precise manufacturing process.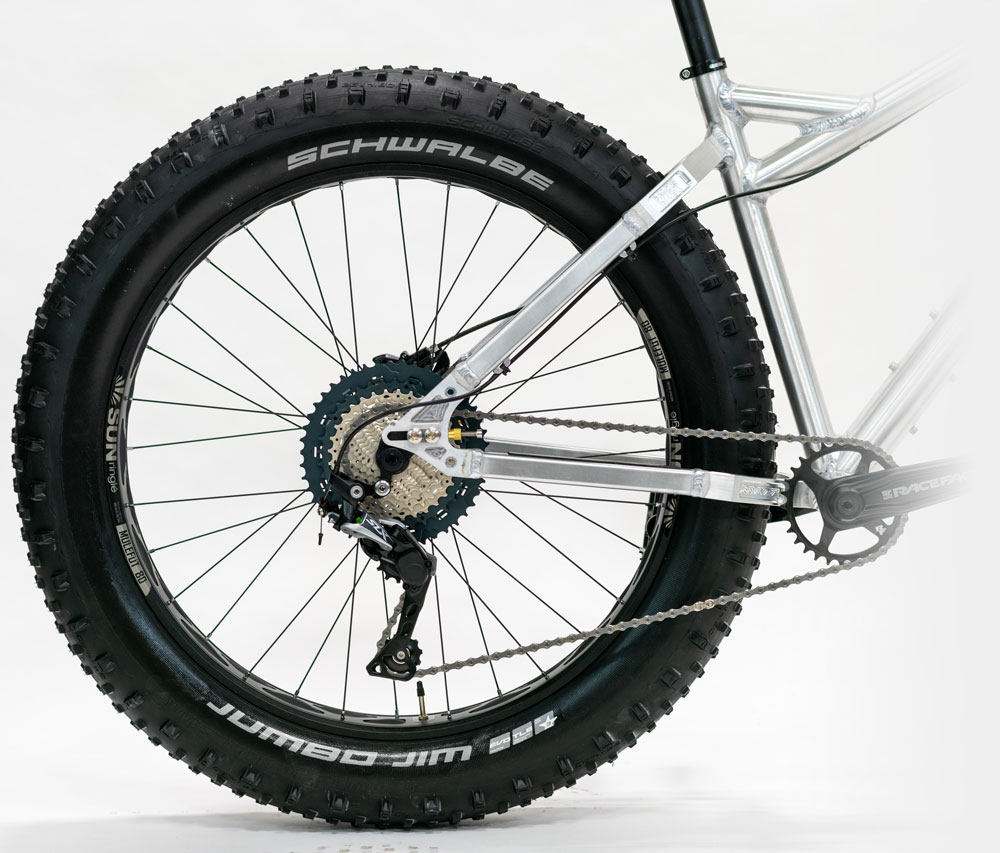 Factory Raw
A current trend in the hand crafted bike industry is choosing a bike that is delivered with a factory raw finish. The factory raw look best reveals the manufacturing quality and technical details of the frame. Factory raw frames are not coated after production, but move directly to assembly. Over time, an oxide layer/patina forms on the frame, causing the shine of the raw aluminium to fade slightly. With the help of a polishing compound or cleaner, the old shine can be restored in a few easy steps.
Powder Coat
If you decide to customize the color of your bike, you can choose from a selection of several different powder coat colors. If there isn't a color shown on our bike build page, please contact us for custom options. Powder coating is an advanced finishing process that is a extremely durable and more resistant to chipping, scratching, fading, and wearing when exposed to snow, rain, and the hot sun.