Vista is our take on what a hardtail mountain bike should be…aggressive, fast, and fun! Vista is an American-made mountain bike with modern trail geometry, plus sized tires, and burly tubing. Designed as a mesh between a trail bike and dirt jump bike, the Vista doesn't feel out of place stopping at the pump track on the way home from a trail ride. The Vista's roomy cockpit is made for short stems and wide bars for better control on switchbacks and rock gardens. The slack head tube angle, low bottom bracket, and optimized chain stay lengths make for a balanced ride to keep you feeling confident on the steep downhill sections or climbing that daunting hill.

Key Features
6061-T6 American-made aluminum tubing
Chain stay and seat stay yokes
Sliding dropouts
Thru axles
Threaded bottom bracket
External cable routing
Dropper post compatible
Tubeless wheels/tires
Water bottle mounts
Rear rack mounts
Low standover height
27.5+ (Max 2.8)
29er (Max 2.5)
We've taken a different approach to frame design by using oversized American-made 6061 tubing up front and rectangular tubing in the rear, matted to CNC'd chain stay and seat stay yokes. This burly design reduces frame flex, improves torsional compliance, and enhances power transfer from each pedal stroke, while giving our bikes the unique aggressive look that we are becoming known for. The incorporation of CNC'd yokes also allows our frames to have greater tire and chain ring clearance, while creating stronger weld joints due to a more precise manufacturing process.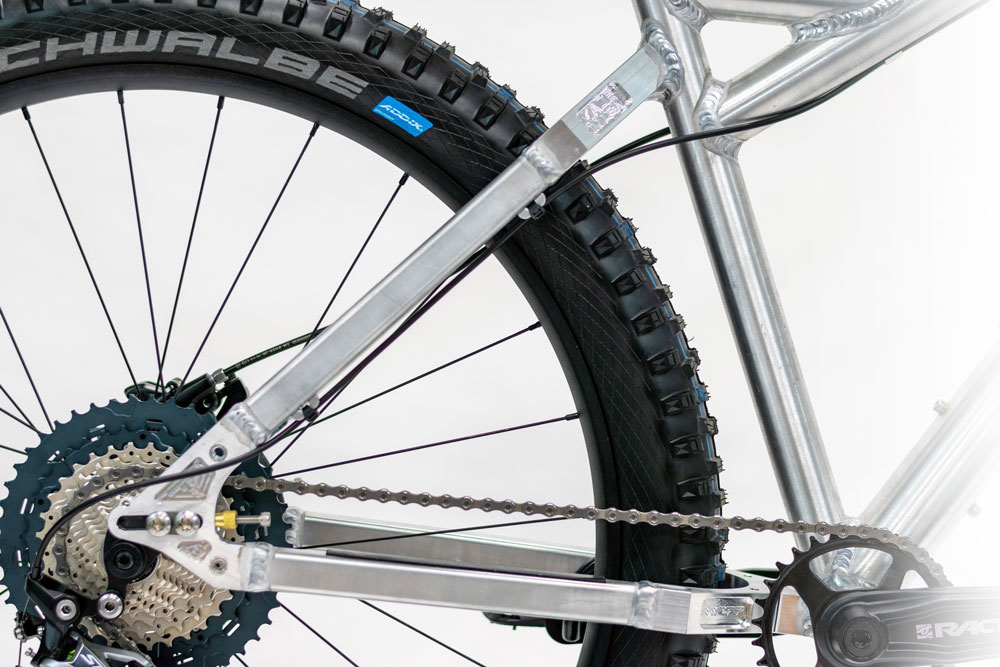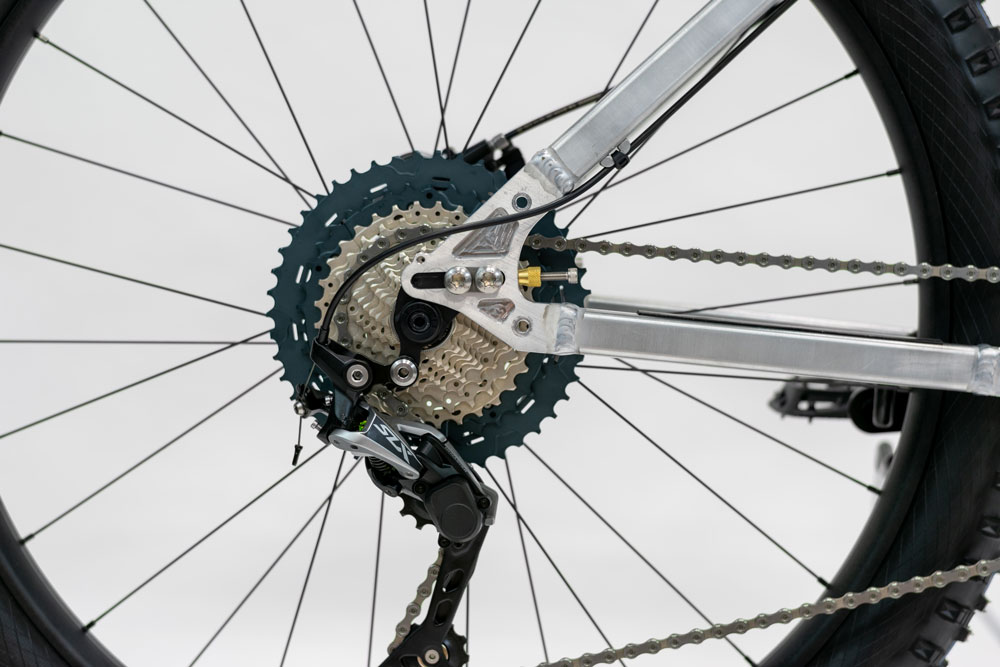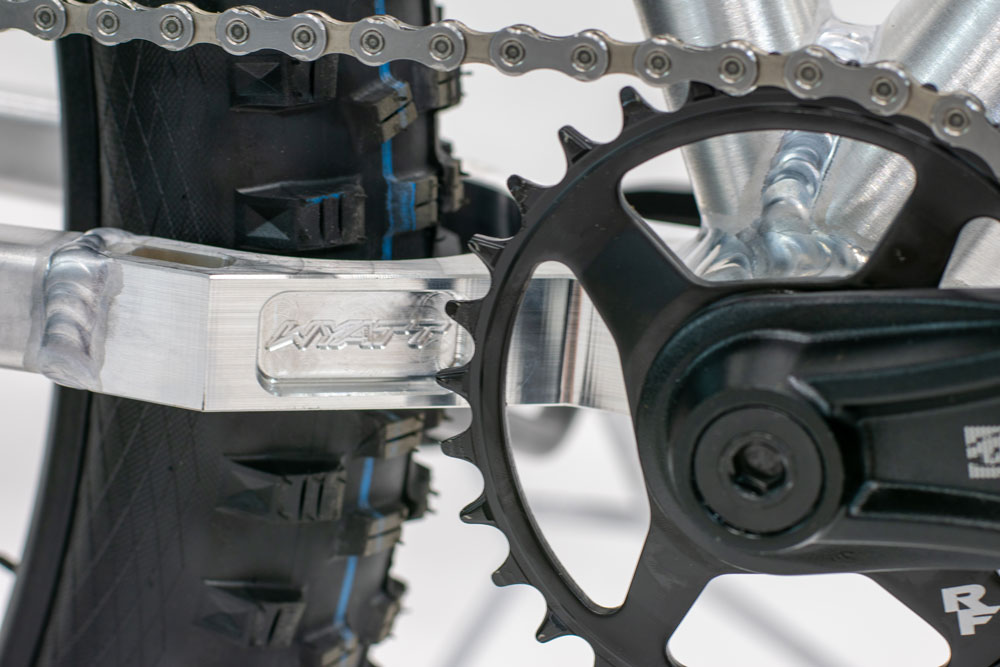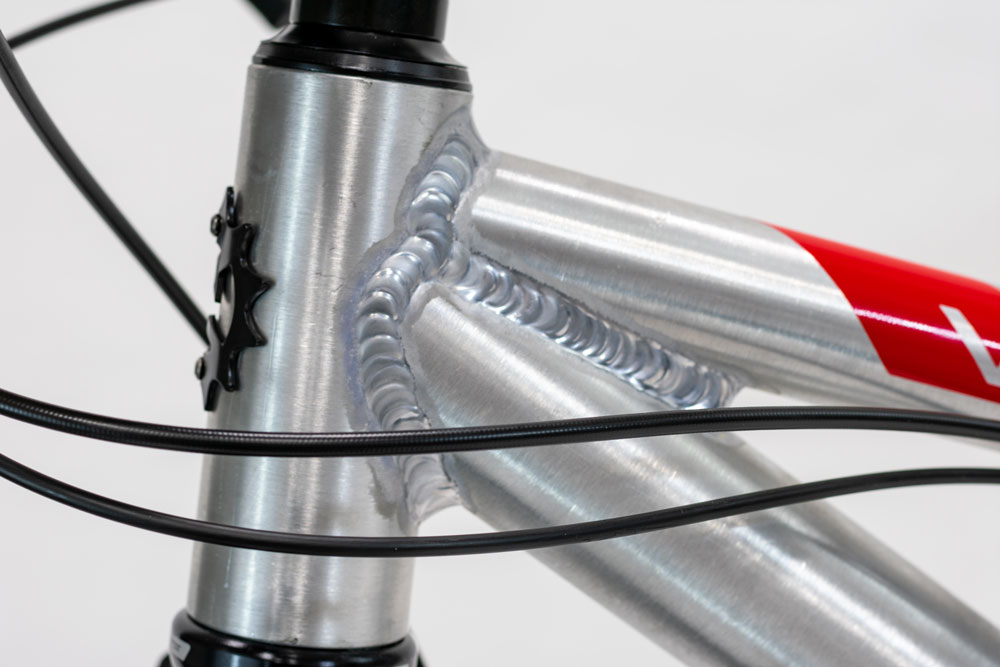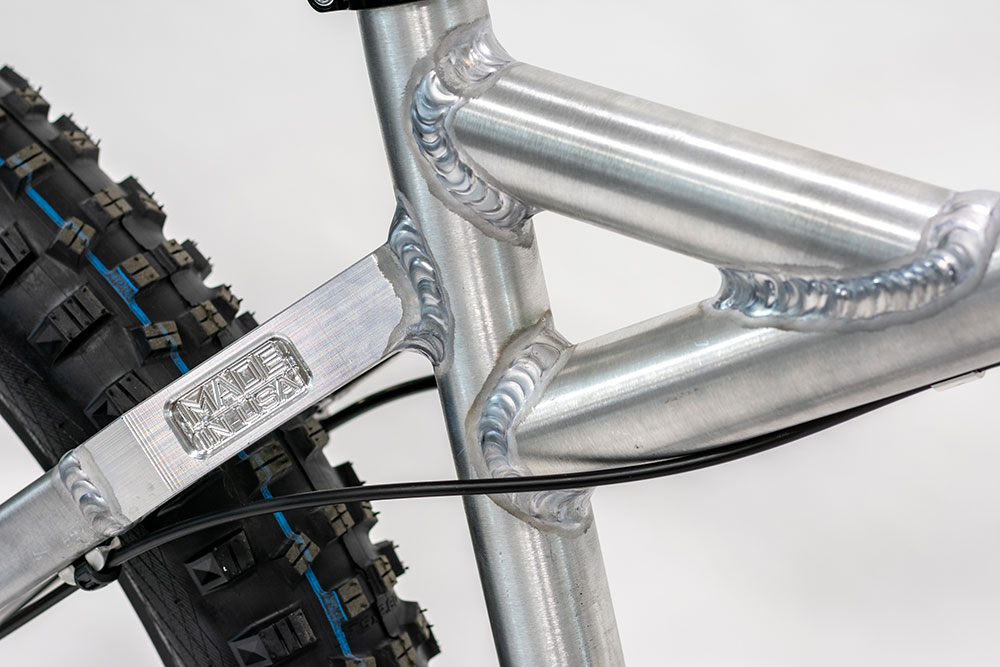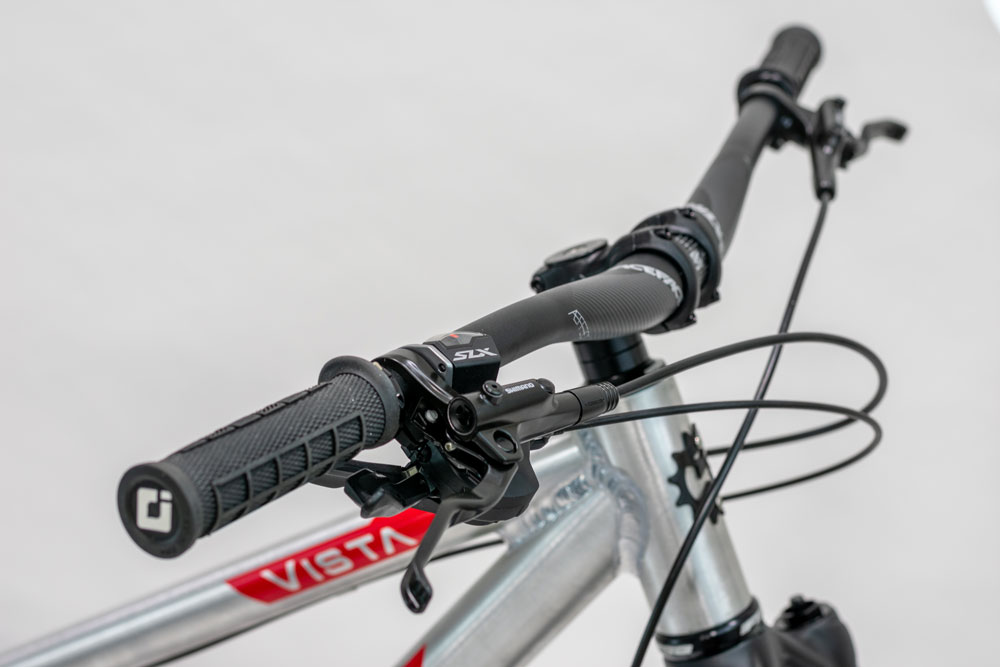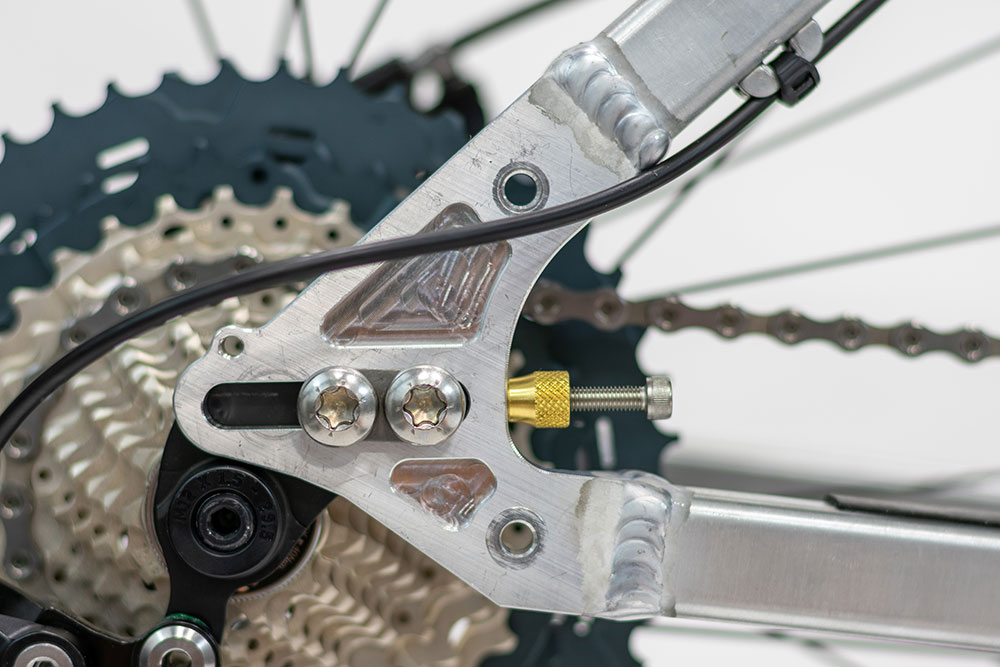 | | |
| --- | --- |
| Frameset | |
| Frame | American-made 6061-T6 Aluminum |
| Fork | Your choice |
| Dropouts | 6061-T6 Sliders, 20mm adjustable, 148x12mm (Made in USA) |
| Wheelset | Your choice |
| Tires | WTB Vigilante 27.5x2.8 |
| Tubes | Tubeless |
| Drivetrain | Your choice |
| Crank | RaceFace Ride: 170mm (S-M), 175mm (L-XL) |
| Chainring | Race Face DM Narrow Wide Steel 30t |
| Bottom Bracket | Race Face Team XC 73mm Threaded |
| Saddle | WTB Speed Comp |
| Seatpost | 30.9mm (Your choice) |
| Handlebar | PNW Range Handlebar Gen 3, 31.8mm, Gray |
| Grips | PNW Loam (Black) |
| Stem | Origin8 Throwdown 35mm length 31.8mm clamp |
| Headset | FSA Orbit ITA - tapered |
| Brakeset | YourcChoice |
| Rotors | 180mm front / 160mm rear |
| Pedals | Your choice |
| Weight | Medium - 30 lbs |
| Weight limit | 350lbs |
Frame Material: 6061-T6 aluminum (Made in USA)
---
Bottom Bracket: 73mm Threaded
---
Chainline: 56mm
---
Max Chainring: 36t
---
Front Spacing: 15x110mm
---
Rear Spacing: 12 x 148mm
---
Dropouts: Left Side: Sliding, Post Mount, 160 Rotor, 12 mm | Right Side: Sliding, Hanger, M12 x 1.5 | T45 bolts (20nm)
---
Rear Axle: 148 x M12 x 1.5, Rear
---
Headtube: 50.8mm OD / 44mm ID
---
Seat Tube: 34.9mm OD / 30.9mm ID (31.6mm ID if purchased before Jan 1, 2023)
---
Seat Post Clamp Diameter: 34.9mm
---
Recommended Tire Size: 27.5 x 2.8″ / 29 x 2.25″
---
Max Tire Size: 27.5 x 2.8″ / 29 x 2.5″
---
Water Bottle Mounts: 2 locations (above and below down tube)
---
Rack Mounts: Located on rear dropouts (Special seat clamp required for seat tube mount)
---
Weight: 5.5 lbs (with sliders)
| | Bike Size | Small | Medium | Large | X-Large |
| --- | --- | --- | --- | --- | --- |
| | Recommended Rider Height | 5'3"-5'7" | 5'8"-5'11" | 6'0"-6'3" | 6'4"-6'7" |
| A | Effective Top Tube Length | 618mm | 648mm | 680mm | 710mm |
| B | Reach | 418mm | 446mm | 475mm | 505mm |
| C | Stack | 645mm | 654mm | 664mm | 674mm |
| D | Seat Tube Length | 400mm | 440mm | 490mm | 540mm |
| E | Seat Tube Angle | 73° | 73° | 73° | 73° |
| F | Head Tube Length | 115mm | 125mm | 135mm | 135mm |
| G | Head Tube Angle | 66° | 66° | 66° | 66° |
| H | Chainstay Length | 440-460mm | 440-460mm | 440-460mm | 440-460mm |
| J | Stand Over Height | 28" | 29" | 30" | 32" |
| K | Bottom Bracket Drop | 48mm | 48mm | 48mm | 48mm |
| L | Bottom Bracket Height | 317mm | 317mm | 317mm | 317mm |
| M | Wheelbase | 1166-1186mm/1161-1181mm | 1198-1218mm/1192-1212mm | 1231-1251mm/1225-1245mm | 1266-1286mm/1260-1270mm |
| N | Front Center | 741mm/735mm | 772mm/766mm | 805mm/798mm | 834mm/827mm |
| O | Fork Length | 551mm | 551mm | 551mm | 551mm |
| P | Fork Offset | 51mm/45mm | 51mm/45mm | 51mm/45mm | 51mm/45mm |
-Geometry without suspension sag
-Standover is measured 70mm from the front of bottom bracket center
Factory Raw
A current trend in the hand crafted bike industry is choosing a bike that is delivered with a factory raw finish. The factory raw look best reveals the manufacturing quality and technical details of the frame. Factory raw frames are not coated after production, but move directly to assembly. Over time, an oxide layer/patina forms on the frame, causing the shine of the raw aluminium to fade slightly. With the help of a polishing compound or cleaner, the old shine can be restored in a few easy steps.
Powder Coat
If you decide to customize the color of your bike, you can choose from a selection of several different powder coat colors. If there isn't a color shown on our bike build page, please contact us for custom options. Powder coating is an advanced finishing process that is a extremely durable and more resistant to chipping, scratching, fading, and wearing when exposed to snow, rain, and the hot sun.
Excellent Bike
Wyatt is manufactured just down the road from us. It's awesome to find such a great product made locally. This is an excellent bike - high-quality components, smooth ride, and durable materials. Highly recommended.
Worth Every Penny
I don't write reviews, but I have been so impressed with Wyatt bicycles that I have to say something. The build quality is excellent & the pride in craftsmanship is apparent. In addition, the customer service is exceptional & the bike is Made in America. It doesn't get any better than that. Wyatt bicycles has exceeded every expectation.
Wyatt is top notch!
New to mountain biking and wanted to buy American. After a quick search I found Wyatt. I sent off an email with questions and got a call from Wyatt himself. I'm not sure I can recall a time when a business owner took time after hours to call me and answer all my questions and help me make the right choice. The bike is high quality and everything that I was looking for. Do not hesitate to give them a try. Thanks Wyatt and crew l!!! Buy American. Buy Wyatt. You won't regret it!!!
Love it
Really a tough bike and love that it's made in usa
Awesome bike!
Wyatt and his team did a great job. The design and build quality are exceptional. I upgraded to the Paul Klamper brakes not because I needed them but because I wanted another great American made product. Vote with your dollars and support American manufacturers and small businesses.
Wyatt Vista in Fruita, Colorado
This is by far the best bike I've had. Being made in USA is the best. More companies should be more like this one. this rides as good as it looks. The people working at Wyatt bicycles are great as well. I'm so glad I have one of there bikes and could be part of this. I can't say enuf about how impressed I am with the Wyatt Vista and there company. Great job. So cool.
Awesome
Newcomer into mountain biking and I wanted to buy a bike that was made in the United States and Wyatt was the answer. Affordable American built awesome!
Well worth the wait!
My wife had been looking for a new bike for a few years and I always hesitated to buy anything because all I could find were bikes made overseas or assembled here with a foreign frame. However, I eventually came across Wyatt Bikes and was excited to see they make their frames here, offered a completely assembled bike for sale, and did not charge the many thousands of dollars other companies charge for this. I was happy with the customization options offered and although we had to wait a few months for the final product, the wait was definitely worth it. The Vista arrived in a large cardboard box with all of the parts and tools needed to finish assembly (connect the front wheel, screw in the pedals, and attach the handle bar). Assembly was quick and straight forward, with little need for the instruction manual. I was impressed by the light weight, build quality, and simplicity (no adjustments needed to any factory-installed part besides the seat post). My wife was as excited as a little girl at Christmas and we went for a ride immediately after. She is completely happy with the bike and has been riding it regularly ever since. We both highly recommend the Vista!
Wyatt Vista
Received bike this week and took it out on trail Saturday. I was amazed. The XL frame is perfect for my 6'5" frame. The XL with 29" wheels seems so much bigger than my previous XL with 27.5" wheels (another brand). Beautiful bare aluminum finish, quality components, Frame manufactured and bike assembled in US. Custom made and arrived in estimated delivery schedule.
Better Late than never!
Love the Bike! Set up was a snap after delivery:)
Waiting for parts was nerve racking. Only negative was having to contact Wyatt to get information on why it was delayed.