As fat bikes have evolved over the past decade from being slow, winter-only bikes, to being year-round bikes with modern mountain bike geometry, they have gained a tremendous amount of popularity. Riders started to realize that they aren't slow or hard to ride as one would think and they began to experience the many benefits that they offer over traditional mountain bikes.
Before I go over the benefits of a fat bike, I want you to keep in mind that not all fat bikes are created equal. Some fat bikes are slow and heavy with outdated frame designs, while others are designed specifically for racing. Our Maverick fat bike is designed with modern mountain bike geometry, manufactured in Wisconsin using lightweight U.S.-sourced aluminum tubing, and ideal for someone who wants the most capable fat bike on the market.
Here are the top five benefits of a fat bike:
1. Fun
By far the most common response we hear from our customers is how much fun they have on their fat bike. It brings back the feeling of excitement, adventure, and freedom when they first learned how to ride a bike as a kid. Fat bikes open up opportunities for exploring new terrains and can take you off the beaten path, allowing you to access remote areas and enjoy unique cycling experiences.
2. Versatile
Fat bikes are the most versatile bikes on the market and can be used in all four seasons. In winter, they float over snow due to the large tire footprint, while in summer, they handle loose and technical terrain with an enormous amount of grip that you can't achieve with a traditional mountain bike. A lot of cyclists have different bikes for different types of riding styles, but if you only want one bike to rule them all, the fat bike would be your answer.
We have customers that use their fat bikes for riding on mainly flat fire roads to customers racing downhill in Colorado at a very high level…check out our Facebook or Instagram page to view some footage of one of our customers taking first place on their Maverick fat bike. He wasn't competing against other fatbikes, he was competing against dedicated full-suspension bikes!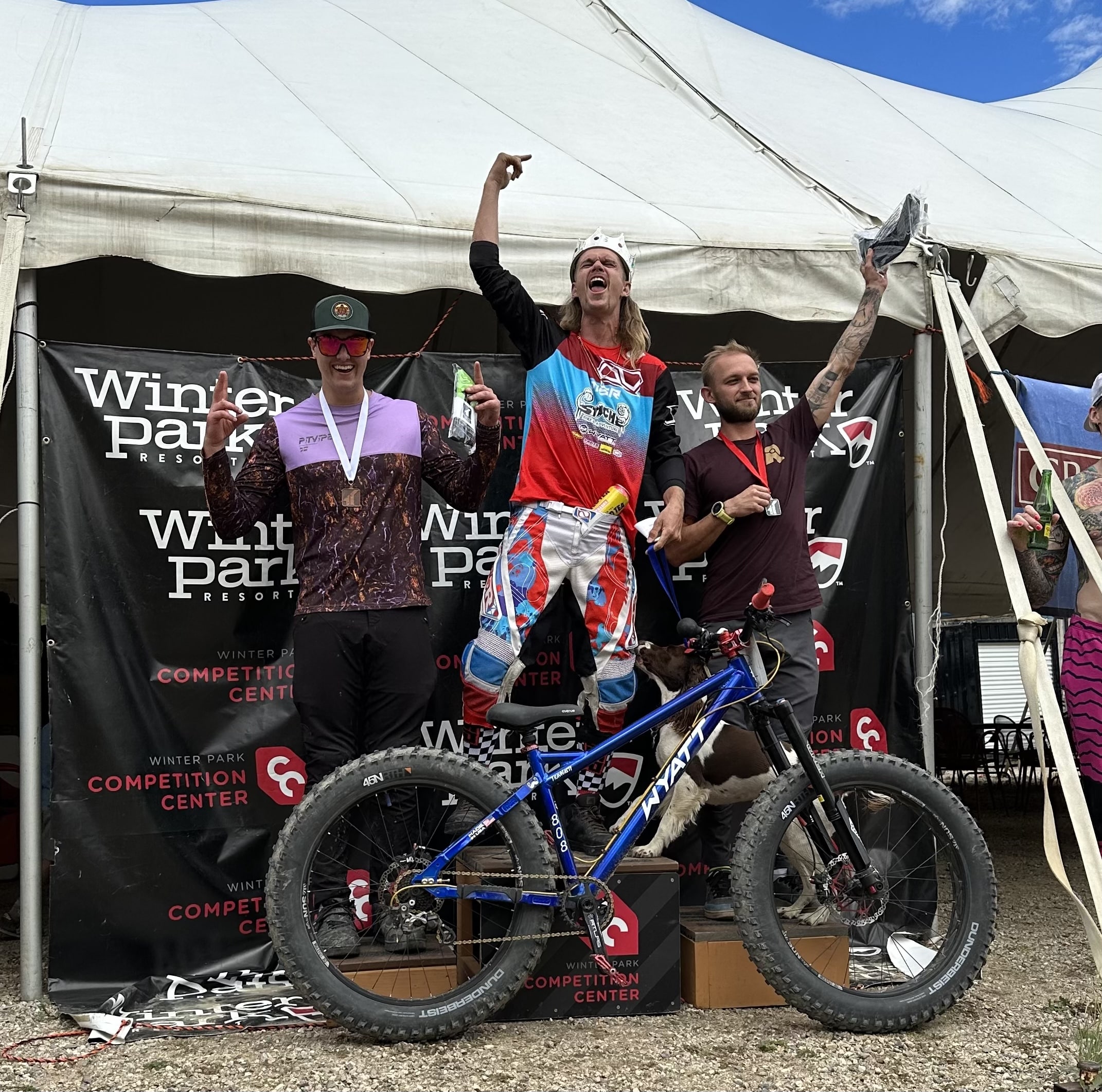 3. Control and Stability
The wider tires offer stability and improved control, which is particularly beneficial for beginners or riders looking for a stable ride. The wider tires and lower tire pressure allow for a larger contact patch, improving stability and reducing the risk of slipping or skidding when riding offroad. This is especially beneficial in snow and sand where floatation is key.
4. Comfort
The wide tires act as a natural cushion to your ride and absorb shocks and vibrations from rough terrain. On a typical mountain bike, you would start to feel the jarring vibrations through your body on longer rides. This is why a fat bike can be advantageous for long-distance cycling, bikepacking, or on bumpy trails.
5. Traction
The larger tire widths provide excellent traction on a wide range of surfaces, including sand, snow, mud, and loose gravel. The large, low-pressure tires can float over soft terrain, making them ideal for off-road adventures and challenging conditions. Fat bike tires come in a variety of sizes, but I have always believed that the 26×4.8″ wide tire is the ideal size for most riding conditions. There are also studded tires available giving the best traction on ice or hard glazed over snow. Studded tires are the safest option for winter commuting…hitting black ice is not fun!
Final thoughts
If you are looking for a bike that's fun, allows you to easily explore new terrain, and gives you the ability to ride year-round, our Maverick fat bike is the perfect choice for you! Please note that depending on your riding style, a fat bike might not be your optimal choice. When debating between a fat bike and a mountain bike, I always ask our customers what type of terrain they plan to ride on. If they have no plans to ride in the snow, sand, or very soft terrain, our Vista hardtail, would probably be a better option. It provides less rolling resistance and better pedaling efficiency on compact trails. The downfall is that you can't use the Vista in snow or sand. No matter which model you choose, our bikes will always allow you to embrace your journey toward a healthier, more adventurous you, while supporting American manufacturing!
We love hearing your input too! What do you love about your fat bike? Drop your response in the box below.